Vizită de studiu a membrilor CRJM privind cadrul legal al sectorului non-profit în Ungaria
24.02.2015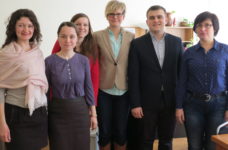 Two LRCM members, Sorina MACRINICI and Ilie CHIRTOACĂ, had a study visit to Budapest (Hungary), to learn about the legal framework of the Hungarian nonprofit sector with an outlook to the European practices. The study visit took place during 16 – 20 February within the Moldova Partnerships for Sustainable Civil Society Program.
During the week, LRCM members held meetings with ECNL experts, leading Hungarian CSOs and Hungarian public officials. During the meetings were discussed the organization and functioning of the CSOs sector in Hungary and shared good practices regarding coalition‐building and advocacy for civil society law reform, based on examples from Hungary and other European countries.
During an inception training provided by ECNL experts Hanna Asipovich, Eszter Hartay and Eszter Márkus, Sorina and Ilie were informed on the current challenges of the CSOs in Hungary and the specifics of the percentage designation mechanism, based on comparative practices, including Slovakia and Poland. Later, income generation by outreach to the public and 1% mechanism, the role of the National Civil /Cooperation Fund in Hungary and the percentage designation mechanism as to recent advocacy efforts to amend the 1% legislation were discussed with the public official from the Hungarian Statistical Office (KSH), Sebestény István and Executive Director of the Nonprofit Information and Training Centre (NIOK) Foundation, Balázs Gerencsér.
Discussions on the steps of the implementation of the percentage designation mechanism in Hungary, with emphasis to the practical aspects of 1 % mechanism continued with József Nagy, Member of the Cabinet of the President, Head of Department of Documentation of Central Office, National Tax and Customs Administration (NAV).
Other important subjects discussed within the meeting with Hungarian representatives were the experience and advocacy efforts to develop the legal environment of CSOs, with Veronika Móra, Executive Director of Ökotárs Foundation, and strategies aimed to develop sustainable social enterprises that solve critical social problems in emerging market economies and the tax treatment of income generation activities – with Éva Vörös, Financial Manager from NESst organization.
The work-week ended with a meeting with members of Hungarian Civil Liberties Union (TASZ), in which they emphasized the experience regarding the Human rights and watchdog organizations in Hungary, media appearance and outreach to the public, as well as 1% campaign and income generating activities.
The experience gained within the study visit will help the Legal Resources Centre from Moldova project team to consolidate their efforts in order to promote legal and regulatory reforms based on the best expertise and practices, with the emphasis on the Hungarian experience, with the goal to create an enabling environment for civil society organizations in Moldova.
The visit was made possible with the support of the European Center for Not-for-Profit Law (ECNL), a leading European research and resource center promoting strengthening of a supportive legal environment for civil society in Europe.
The activity was made possible by the generous support of the American people through the United States Agency for International Development (USAID).