Forum "Justice and Anticorruption Reforms" – 24-25 September 2020
16.09.2020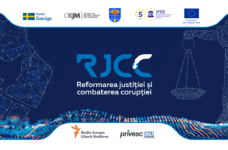 The Legal Resources Centre from Moldova (LRCM) in partnership with the Institute for European Policies and Reforms (IPRE) are honored to invite you to the "Justice and Anticorruption Reforms" Forum that will take place on 24 – 25 September 2020. The Forum is organized in cooperation with the Ministry of Justice. In the Forum's framework, the organizers seek to discuss the priorities regarding the justice and anticorruption reforms, both from the Government and justice sector representatives, as well as from civil society and development partners' perspectives. Foreign experts from the region are also invited to share their relevant experiences. The preliminary agenda is attached. The working language of the event will be Romanian, with simultaneous translation in English.
The participation in the event will be possible offline – at Digital Park (15, Chișinău, Mihai Viteazul street) and online via Zoom platform. Only the persons that were invited and confirmed in advance their participation will have access to the conference hall where the Forum will take place. Only those that registered in advance  will have access to the Zoom platform. The event will be broadcast LIVE on Privesc.eu platform and on IPRE's and LRCM's social media pages.
The organizers will ensure the respect of all anti-COVID-19 measures for the participants present in the conference hall. It is mandatory that participants wear masks throughout the event.
The Forum is organized within the project "Institutional Support for Organizational Development" implemented by the LRCM and funded by Sweden, and within the project "Support to the development and implementation of justice policies in the Republic of Moldova", implemented by IPRE in partnership with LRCM, with the financial support of the European Union.
Links to LIVE transmission:
Day 1: https://www.privesc.eu/Arhiva/92050/Forumul–Reformarea-justitiei-si-combaterea-coruptiei—ziua-1
Day 2: https://www.privesc.eu/Arhiva/92051/Forumul–Reformarea-justitiei-si-combaterea-coruptiei—ziua-2
DRAFT AGENDA