Doina DUMBRĂVEANU-MUNTEANU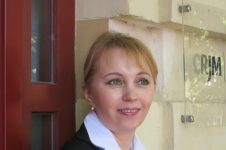 Since February, 2014, Doina Dumbrăveanu-Munteanu is a project coordinator of EU project "Promoting Equality – Straitening the agents of change" within the Center for Legal Resources of Moldova. She has substantive knowledge of human rights and HIV issues, non-discrimination terminology according UNAIDS standards, as well as the problems tackling people living with HIV (PLWH). She was particularly in charge with developing and implementing specialized trainings for lawyers, NGOs and initiative groups with the participation of the local public authorities and other relevant actors responsible for protection and promotion of HR of PLWH. She has therefore developed very good communication, networking and advocacy skills. Since January 2001, Doina has gained a lot of experience as project manager being involved in different projects focused on protection and promotion of Human Rights and non-discrimination. Starting with 2001, she was part of the team that has created the Center for Prevention of Trafficking in Women, which has become the leading organization in this field in Moldova. Then, she coordinated a program "Transnistrian Women's Support Project" at representative office WINROCK in Moldova by opening in Transnistria region 2 regional support Centers for vulnerable women coming from abusive environment. Since January 2010 till March 2012, she successfully implemented as project manager at the Moldovan Institute for Human Rights (IDOM), the project component Protection and promotion of the rights of people living with HIV under the project "Reducing HIV-related burden in the Republic of Moldova" under the Global Fund Grant.
Besides her managerial experience, Doina has continued to work as editor or author of several publications in the field of human rights and non-discrimination of migrants or trafficked people and as translator from English into Romanian of legal texts.
Doina has two Master degrees, one of which is an European Master degree in Management from the Superior School of Trade, Dijon, FRANCE. She got a certificate of attendance from the Annual Summer School on Health Law at the Erasmus Observatory on Health Law, Erasmus University Rotterdam/ Institute of Health Policy & Management as well as the Regional Programme on the Equal Status and Human Rights of Women, Raoul Wallenberg Institute of Human Rights and Humanitarian Law, Sweden.
Doina is fluent in Romanian (native), English, French and Russian.