Organizations from the southern region of the country have benefited from a round of training on the application of the 2% mechanism
18.09.2018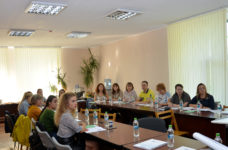 On 13 and 14 September 2018, LRCM organized two training workshops on the application of the 2% mechanism (2% Law) for civil society organizations (CSOs) from Cahul and Căușeni regions. The purpose of the workshops was to enable local non-governmental organizations to capitalize the benefits of the 2% Law.
Workshops focused on explaining the 2% mechanism (registration procedure, steps, terms, involved institutions) as well as on the use of amounts and reporting. Other topics covered accountability and sanctions applied by responsible bodies, CSOs and taxpayers' access to information, as well as the opportunity to plan and implement a 2% information campaign that is so important for achieving results.
The training sessions were organized within the project "Promoting the rule of law in Moldova through civil society oversight", implemented by the Legal Resources Centre from Moldova with the financial support of the United States Agency for International Development (USAID).
List of resources about the 2% Law is available here.
Presentation of the trainers is available here.
We recall that between 1 and 30 September 2018, CSOs can register in the List of 2% Beneficiaries by submitting a request to the Ministry of Justice.
More details about the registration procedure can be found here.