Civil society organizations urge authorities to hold responsible those guilty of de facto extradition of Turkish citizens
17.10.2018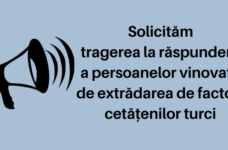 Several civil society organizations consider that the forced removal of Turkish citizens on 6 September 2018 was politically-driven and done in violation of national laws and international treaties on human rights. A month after this event, the authorities' answers regarding the legality of the removal of Turkish citizens continue to raise many questions. In the absence of clear arguments confirming that there really existed a risk of a threat to national security, there is a strong presumption that the operation carried out by the authorities took place out of political interests and it actually was a camouflaged extradition at the request of the Turkish authorities.
Signatories request:
1. the authorities of the Republic of Moldova to request the President of Turkey the return to the Republic of Moldova of all Turkish citizens illegally removed from our country and to prevent such situations in the future;
2. the Prosecutor General to initiate criminal prosecution to bring to justice all those who have committed violations in connection with the "removal" of the seven Turkish citizens;
3. the Parliament of the Republic of Moldova to organize public hearings and publish all relevant information on this operation;
4. the authorities of the Republic of Moldova to grant asylum and other protection measures necessary for the families members of the "removed" persons and other foreign citizens in similar situation, especially in the context of Turkish President Recep Tayyp ERDOGAN visit, on 17-18 October 2018.
The text of the appeal is available here
Signatory organizations:
Legal Resources Centre from Moldova (CRJM)
Amnesty International Moldova
Journalistic Investigation Centre (CIJ)
Association for Efficient and Responsible Governance (AGER)
Institute for development and social initiatives "Viitorul"
"WatchDog.MD" Community
Transparency International Moldova (TI-Moldova)
Institute for Public Policy (IPP)
Promo-Lex
Centre for Independent Journalism (CJI)
Center for Analysis and Prevention of Corruption (CAPC)
Association of Independent Press (API)
CPR Moldova
GENDERDOC-M
Law Center of Lawyers (CDA)
Center Partnership for Development (CPD)
Institute for European Policies and Reforms (IPRE)
Independent Analytical Center Expert-Grup
Rehabilitation Centre for Torture Victims "Memoria"